Two very different types of flexo presses are used in packaging printing. One is central impression (CI) presses, where usually 8-10 inking units are arranged around a common, large impression cylinder. And inline presses, where the individual printing units are arranged in a row one behind the other. What are these two different types of flexo presses all about?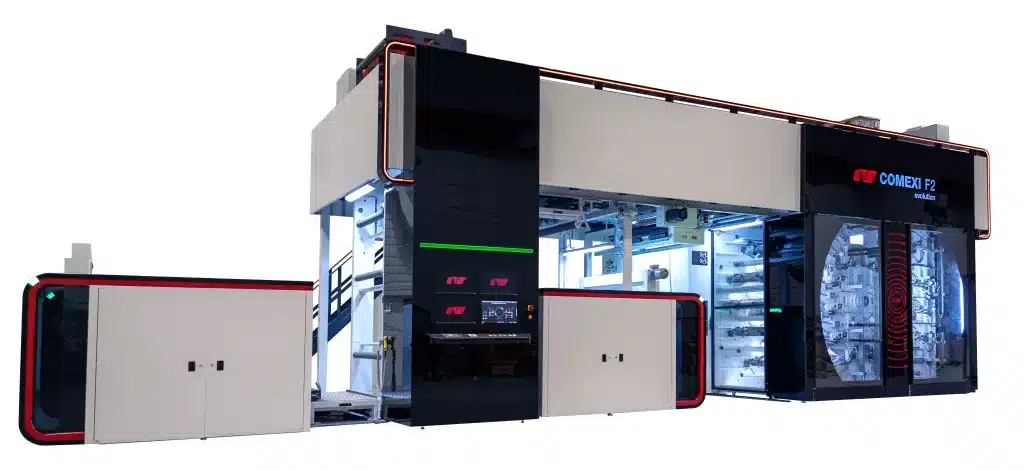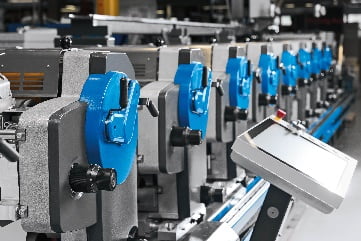 In both types of flexo press, the printing units consist of an anilox roller plus chambered doctor blade, a plate cylinder and an impression cylinder. And that is where their similarities end. Which construction is used for what depends very much on the end product to be manufactured.
Flexible packagings: In this segment of packaging printing, mainly thin plastic films are printed. Due to the stretchability of the films, there is always a risk of register fluctuations during printing, caused by the tension during web transport in the press. The central cylinder design prevents this by ensuring that the web tension around the central cylinder is the same. At the same time, the web rests on the cooled, large central cylinder during printing, which also prevents the web from stretching due to the warm, dry air between the individual printing units. Another advantage of central presses is that the small distances between the printing units benefit register accuracy in printing.
Label printing: Due to their siliconised paper base, label materials are dimensionally stable even under web tension. This is why label printing, with its short runs and frequent job changes, places different demands on the design of presses than flexible packaging. The focus here is on solutions that enable presses to be adapted quickly and easily to frequently changing, complex printing requirements. These requirements are best met by a modular arrangement of printing units. With modular presses, spare printing units can be preloaded while the job is running or the sequence of printing units for different printing processes can be changed during makeready for a job. Some label presses are equipped with up to 12 printing units.
Corrugated board printing: Here, the rigid corrugated cardboard substrate determines the straight sheet transport through the printing units and thus the inline-construction of the machines. In addition, a lot of space is needed when changing jobs between the printing units in order to insert the large printing formes, which is given by the distances between the printing units. Print motifs with high quality demands are now produced on presses with up to six printing units arranged one behind the other plus a coating unit.
In general, the inline design offers far more flexible options for configuring a press to meet individual requirements. Completely different printing processes can also be flexibly integrated.
Even with central cylinder presses, individual additions are possible or already standard. Coating units or printing units for cold seal application are predominantly integrated in the press design.