These are the basic parameters in flexo printing process:
Printing Form
• All flexo printing forms are made of a flexible material.
    • Flexo Printing Forms
    • Elastomer Printing Forms: are produced by direct laser engraving
• Photopolymer Printing forms: are imaged directly by using a laser and then exposed with UV light, non-printing features are washed out
• Types of Printing Forms:
      • Flat printing form: Printing plate: the plate is mounted on a plate cylinder
      • Round printing form: Sleeve: the endless sleeve is directly mounted on a press sleeve mandrel
Plate Mounting – flexible Packaging
Ink – Flexo Inking Unit (Single Ink Unit)
Printing Ink
The printing forms (plates) are mounted on the form cylinder. The anilox roller transfers a defined amount of ink to the plate. The chambered blade system fills the cells of the anilox roller with ink and removes the excess ink from the surface.
Solvent Based Inks – for Flexible Packaging
• Substrates for flexible packaging are often printed with solvent basedinks.
Water Based Inks – for Absorbant Substrates
• Paper and liner (absorbant substrates) are often printed with water based inks.
UV Inks
• In label printing UV inks are used for many applications.
Sleeve Technology
• The printing sleeve is mounted on the mandrel.
Tapes
• Most tape suppliers offer 3 to 4 foam tapes of different types of hardness.
• The choice of tape depends on image and application (screen, solid, linework, substrate).
• Depending on sandwich the right tape thickness (0,10 mm, 0,38 mm und 0,55 mm) is chosen.
• Tape suppliers are e.g. tesa, Lohmann, 3 M, Rogers.
Tape – The right Choice of Tape :
Foam tapes for flexible packaging and label printing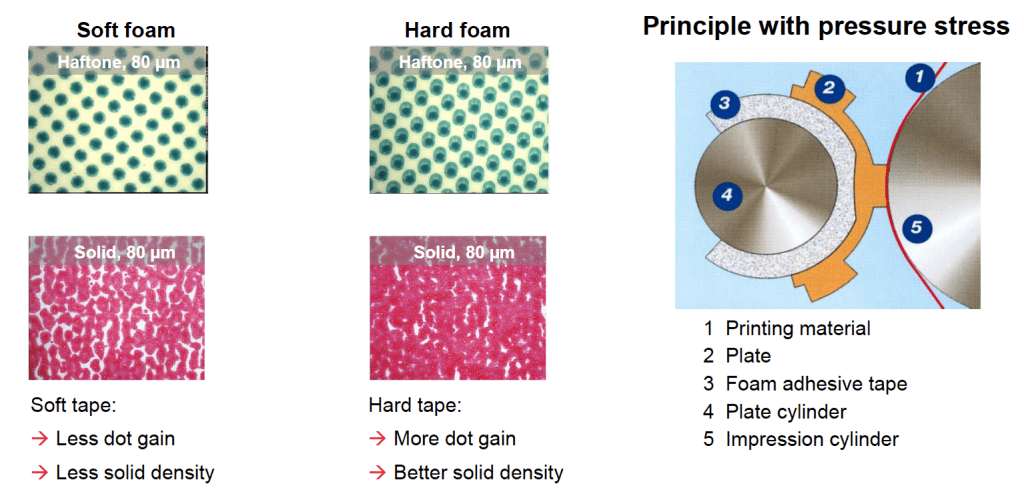 Substrates in Flexo Printing – Paper
Flexible Packaging :
• Coated paper
• Semi coated paper
• Uncoated paper
caption: Coated paper
Corrugated Preprint
• Kraftliner
• Testliner
Corrugated Postprint
• Coarse – medium flutes
• Fine – micro waves
Substrates in Flexo Printing – Film
• Flexible packaging substrates are single
or multi-layer films which consist mostly
of the following syntectic materials:
• Polyethylene (PE, LDPE, HDPE)
• Polypropylene (PP, OPP, BOPP)
• Polyester (PET)
• Polyvinylchloride (PVC)
• Nylon
• Aluminium foil